Clark's Pies were first made in Cardiff in 1913 by the founder Janet Maud (Mary) Clark in her shop at 93 Donald Street, Roath. The pie making did take a temporary break during the First World War, but soon recommenced in the early 1920's.
The people of Cardiff were enjoying the pies so much that a larger production base was required, and in 1928 a shop was opened at 110 Paget Street, Grangetown, Cardiff.
Over the years, Mrs Clark had seven children, who all followed her in her Clark's Pie footsteps. Several of the children ended up flying from the nest and starting up their own Clark's Pie bakeries in Bristol, Swindon, Reading, Newport, Gloucester and even in Cardiff.
Over time many of the businesses have now closed, but Clark's Pies are still going strong in Cardiff, based at the last remaining Clark's Original Pies shop at 23 Bromsgrove Street, Grangetown. The shop was opened by Dennis Dutch, grandson of Mrs Clark, in 1955. Prior to opening his business Dennis had worked for his parents, Arthur and Winifred Dutch at their Clark's Pie shop on Cowbridge Road West, Canton. It was Arthur Dutch who had the ingenuity of registering the "CLARPIE" trademark in 1934 and this trademark is still stamped into the bottom of every Clark's Original Pie.
Clark's Pies is an institution in Cardiff and South Wales, and the company is keen to progress and keep up with new developments whilst still retaining the image of being Cardiff's traditional pie.
Clark's Pie Culture
Clark's Pies are firmly rooted in Wales's history and culture. Here are some fun examples.
Clark's Pie Fan Video
Clark's Pie Eating Competition
Cardiff Story - Cardiff National Museum
The Cardiff Story is a new heritage museum for the city. Clark's Pies have their very own section detailing our history and our history within Cardiff. For more information on the Cardiff Story follow this link: Cardiff Story
Clark's Lingo
Clarkies / Clarksies - The colloquial nickname given to Clark's Pies.
A Clark's Tash - The nickname given to burning the upper lip with the hot filling.
The Hanging Gardens of Grangetown - The nickname given to burning the lower lip with the hot filling.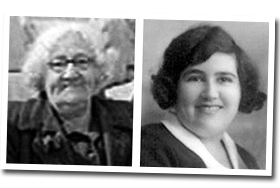 Clark's Pies were first made in Cardiff in 1913 by Janet Maud (Mary) Clark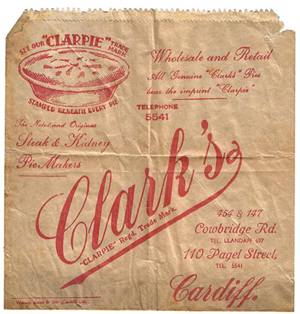 Due to increasing demand, the first Clark's Pie shop was open in 110 Paget St, Grangetown, Cardiff in 1928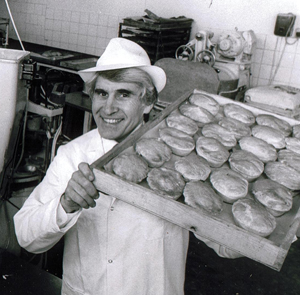 The last remaining Clark's Pie shop is in Grangetown, Cardiff, opened in 1955 by the grandson of Mary Clark, Dennis Dutch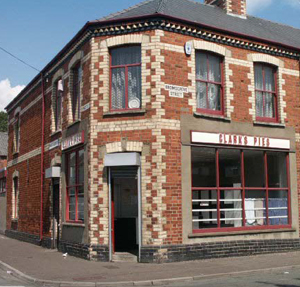 The last Clark's Pie shop located in Grangetown, Cardiff.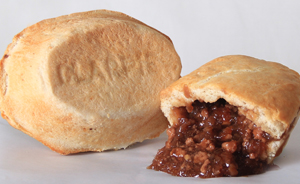 The famous CLARPIE stamp on the bottom of every Clark's Pie was first registered as a trademark in 1934 by Mary's son, Arthur Dutch